Stephen Leigh & S.L. Farrell
Roaming at the intersection of fiction and reality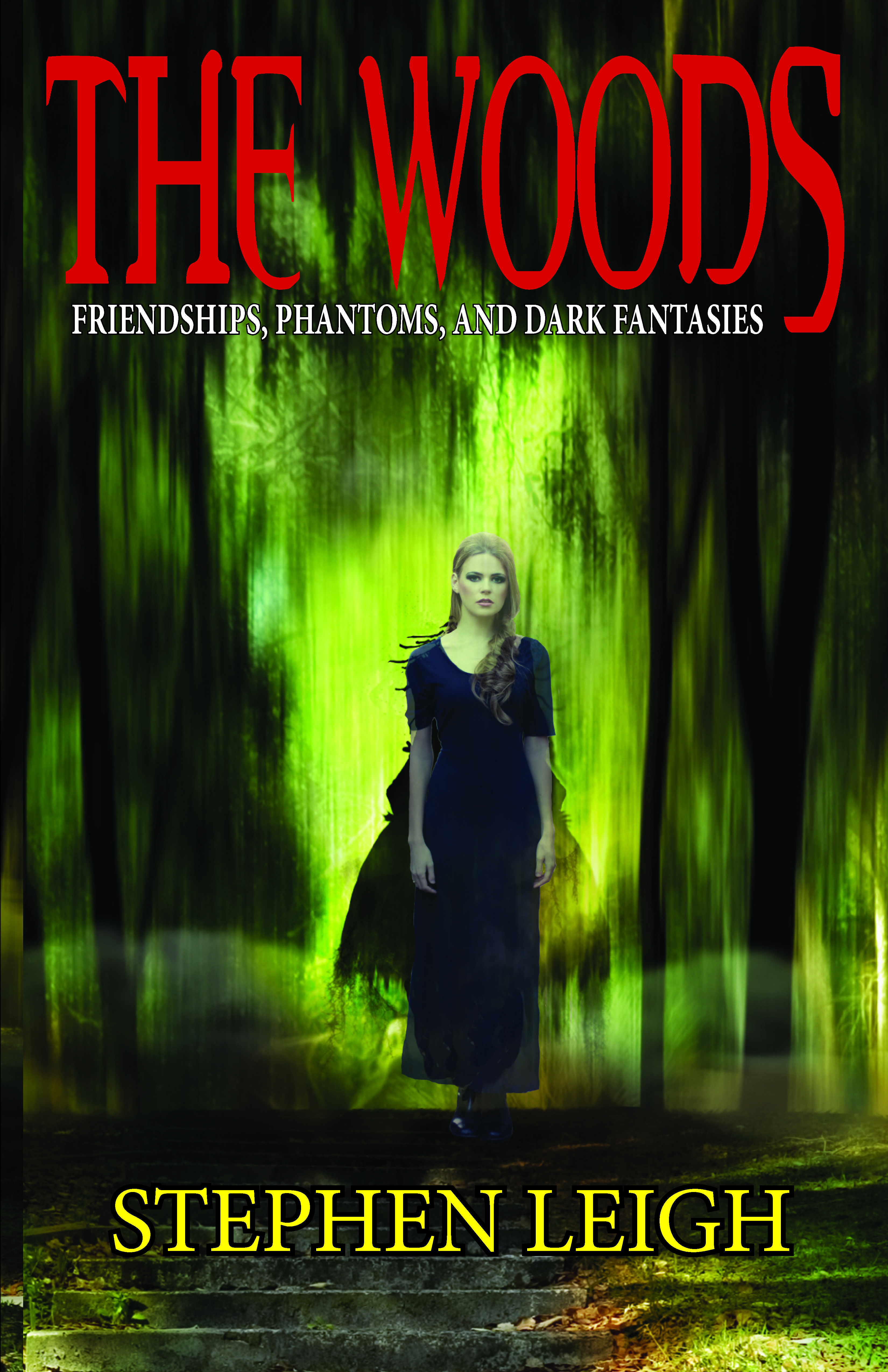 Back when I realized just how much I loved teaching at the university, I knew that in order to teach full-time, I would need an advanced degree, and completed a Masters program in Creative Writing. For my 'thesis' in that program, I wrote a novel: a somewhat quirky story that didn't fit easily in the standard genre 'buckets'—it's maybe dark fantasy, maybe young adult (or maybe not), with elements of magic realism and psychological horror. That book became THE WOODS.
Originally released only in ebook form, in 2011 Phoenix Press (who had reprinted several of my earlier novels) agreed to put out a print version of the book, as well as their own ebook version. I'm pleased to have THE WOODS offered in diverse formats!
THE WOODS is a dark urban fantasy novel where the borders between reality and fantasy are blurred and difficult to see. Here, the wild and romanticized dreamscape of youth intersects the gray, adult world beyond.
A quick overview: Rob Mullins and Mark Dyson are fast friends, growing up in a neighborhood surrounded by a forest. The boys have spent their childhood among the green pathways of the woods playing as pirates, knights, and adventurers. They believe nothing can ever alter the bond between them. But adolescence wields a compulsive snare, and fantasy can no longer hold back reality. Rob's parents are preparing to move, threatening to tear Rob away from everything he has known, while Mark's father JD has become increasingly abusive and harsh. Rob's familiar world and his friendship with Mark are both unraveling.
But the pretense of magic remains. Mark, through a startling sacrifice, appears to call into existence a young girl of the same age: Sheila. Her fey, magical, and erotic presence shatters the last remnants of Mark and Rob's childhood.
THE WOODS is a strong, riveting, and frank exploration of young adulthood that reminds us that every wish and desire bears its own price
REVIEWS
"I was blown away by The Woods. It is billed as a dark fantasy, and it is that. The magic in this story is both beautiful and disturbing. The narrative is gripping; deceptively simple in its setup and satisfyingly complex in its execution. And yet, while "Dark Fantasy," may begin to describe The Woods, it does not do the book justice. This is a deeply moving, literary novel, a reflection on adolescence that delves into the raw emotions of youth with the poetic insight of John Knowles (A Separate Peace) and the power of the underrated James Kirkwood (Good Times, Bad Times))
Humor, melancholy, nostalgia, and beneath it all a compelling honesty that makes this work of fiction read almost like memoir. Leigh's prose is elegant, his plotting tight, his character work outstanding. But it is the voice of his protagonist that drives this story, that gives the book it's emotional weight and power.
I'm not going to delve into plot summary or anything else that might give away the many surprises that await you in The Woods... "
-- David B. Coe, Crawford Award-winning fantasy author
"...a story that deals with powerful issues and makes you think and rethink about things in your own life. It pulls no punches in examining those issues and the ramifications of decisions we make around them.
In other words, it's a damned fine piece of work... THE WOODS is a piece of art."
--Ron Collins, author and Writer of the Future winner
LINKS TO BUY: | Village Lights Bookstore | Bookshop.org | Barnes & Noble | Amazon |