Stephen Leigh & S.L. Farrell
Roaming at the intersection of fiction and reality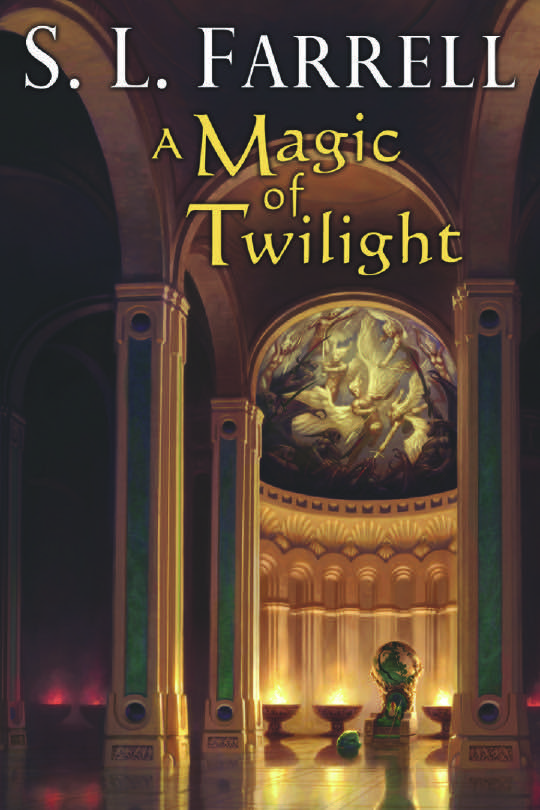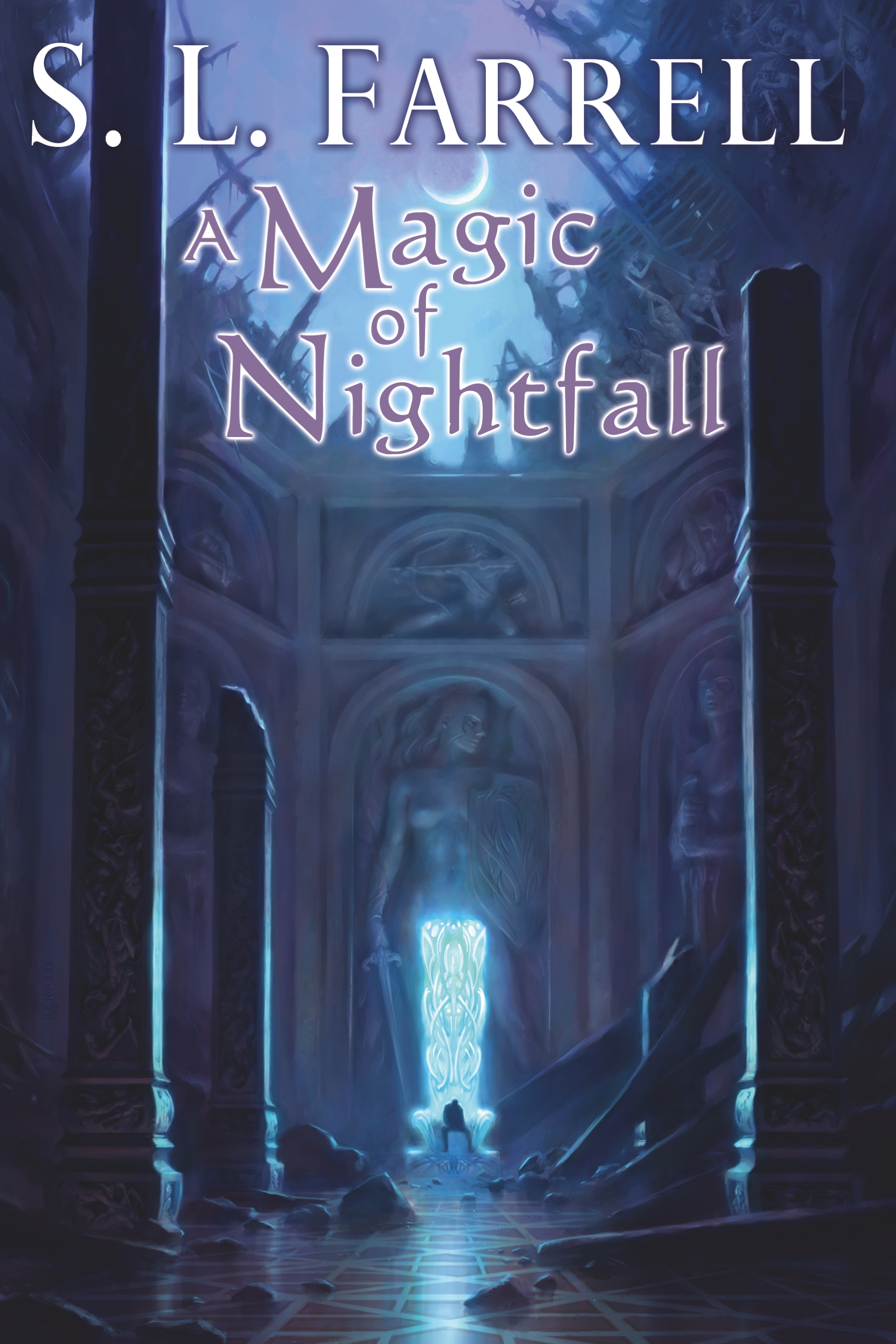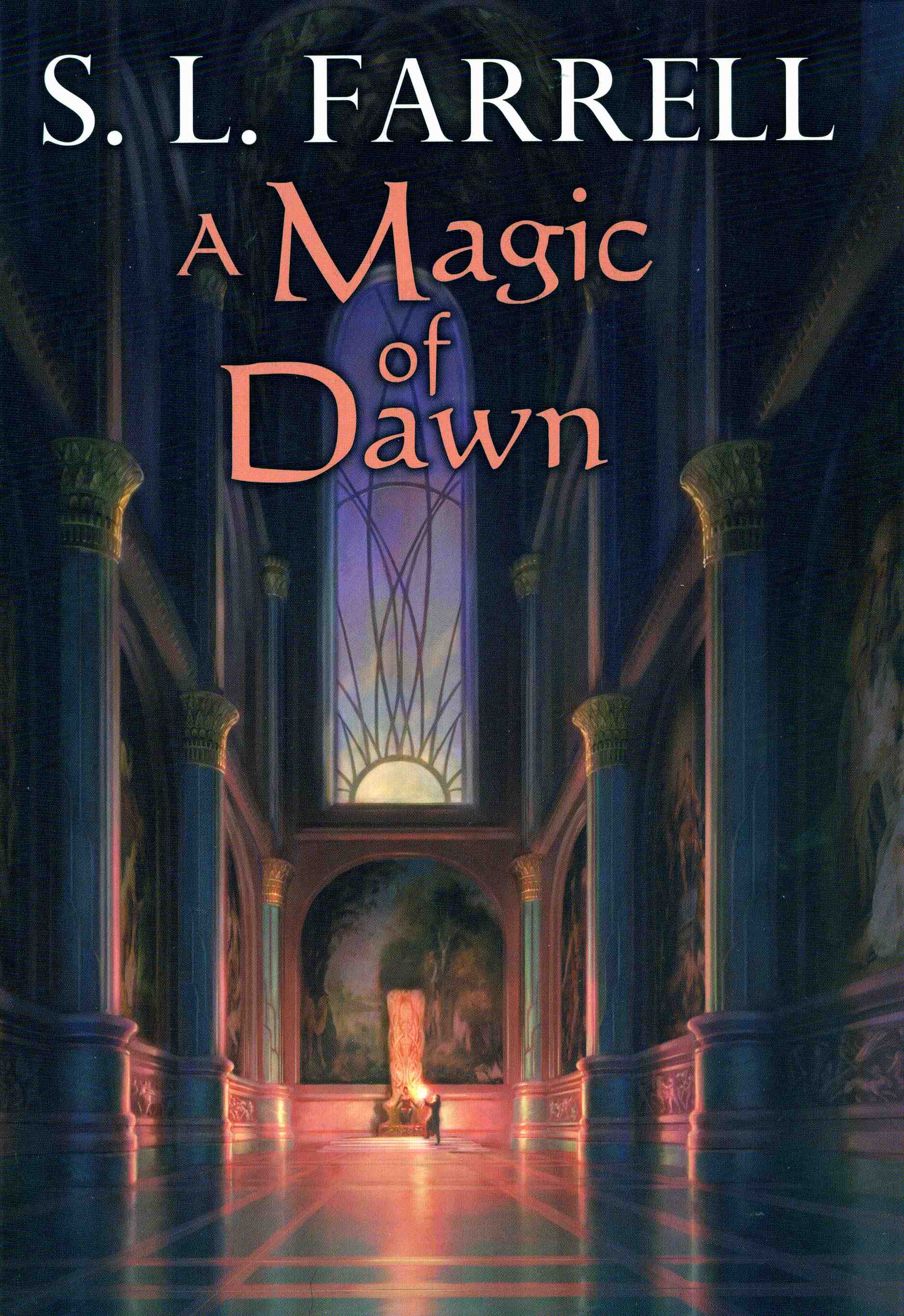 The Nessantico Trilogy was first published by DAW Book between 2008 and 2010
The cover paintings are all by Todd Lockwood, and I like the fact that it is dominated by architecture, as the central character of the book in many ways is the city of Nessantico itself. I also enjoy the composition, which draws the viewer deeper and deeper into the recesses where details wait to delight. I hope that's an effect I manage with words, as well...
TWILIGHT:
An intricate tale of murder and magic, deception and betrayal, Machiavellian politics, star-crossed lovers, and a world on the brink of devastating war.... Over the decades and slow centuries, the city of Nessantico spread her influence in all directions. Nessantico gathered to herself all that was intellectual, all that was rich, all that was powerful. There was no city in the known world that could rival her. But there were many who envied her...
Our trip to France in May 2005 proved to be a large inspiration for the book, and provided much of the feel and background for the novel.
LINKS TO BUY: | Village Lights Bookstore | Bookshop.org | Barnes & Noble | Amazon |
NIGHTFALL:
It's 25 years after the events of A MAGIC OF TWILIGHT. A boy king—Audric, the grandson of the legendary Kraljica Marguerite—rules Nessantico under the tutelage of Sergei ca'Rudka, but the boy is ill and there are those who are waiting impatiently for the Sun Throne to become vacant again. The continent-spanning empire of the Holdings has broken in half, with Firenzcia and neighboring countries to the east creating a rival alliance. The Concénzia Faith has also been sundered, with Archigos Ana ca'Seranta ruling in Nessantico while another in Brezno claims the same title. In Firenzcia, Allesandra ca'Vörl plots against the Holdings, and Semini ca'Cellibrecca, the Archigos of Brezno, quake with fury at tje acceptance of the Numetodo heretics in the Holdings. In the far west, there is war with the Tehuantin, the people of the Hellins, and that war does not go well. In Nessantico herself, in the warrens of Oldtown, agents of the Tehuantin are watching...
And with a roar of flame and unexpected death, great and terrible events are set in motion, and Nessantico must face a threat unlike any other in its long, illustrious history: a threat that will take it to the knife-edge of destruction. Some characters survive the interval between TWILIGHT and this book to play a significant part; others have died or otherwise vanished from history's tapestry, allowing new characters to blossom.
LINKS TO BUY: | Village Lights Bookstore | Bookshop.org | Barnes & Noble | Amazon |
DAWN:
As with the other books, some characters survive the interval between NIGHTFALL and this book to play a significant part; others have, well, not survived. New characters have arrived, and some characters, both new and old, won't survive the book.
That is the way of things with characters...
LINKS TO BUY: | Village Lights Bookstore | Bookshop.org | Barnes & Noble | Amazon |
REVIEWS OF THE TRILOGY:
"S.L. Farrell is a relative newcomer on the fantasy scene, but he writes like a seasoned pro. A MAGIC OF TWILIGHT is his best yet, a delicious melange of politics, war, sorcery, and religion in a richly imagined world peopled with a varied cast of haughty lords, scheming courtiers, beggars, priests, heretics, zealots, spies, assassins, torturers, tarts, and seductresses. They're vivid and memorable characters, and most are painted in shades of grey, my favorite color. Farrell's Nessantico evokes the Italian city-states of the Rennaissance, especially Venice, but this is a Venice where magic works. It's a fascinating place, and one that I look forward to visiting again." -- George RR Martin, award-winning and NY Times bestselling author
"Readers familiar with Farrell's amazing 'Cloudmages' series will pick up this first book in a new series with a pretty good idea of what to expect; all others are likely to be happily blown away by the gorgeously detailed setting and intriguing characters. Then there's the tangled knot, knitted up of at least seven different kinds of treachery. All told, this is a fantasy novel to settle down with for a nice, long time... Farrell's world-building is, as always, impressive: intricate and well-thought out. The intrigues pulling characters one way and another are complicated, and keeping up with all the characters throughout the headlong plot is a challenge -- but it's an entertaining challenge, one which repays the reader's work with a vivid rich story of treachery, hope, faith, and snarled loyalties as complex as the city that houses them." -- Charlene Brusso in BLACK GATE
"Secure in its own Renaissance-style environment, this novel was a pleasant surprise, and one which deserves greater recognition." -- Mark Yon in SFFWORLD
"S.L. Farrell has crafted a wondrous tale of intrigue, adventure, the collision of politics and religion, and the triumph of personal virtue over fear and doubt... The craft of world-building has rarely been put on display so ingeniously." -- Drew Bittner in SFRevu
"Considerable charm and appeal... It's always refreshing to read a fantasy where neither side in a conflict has much of a moral edge on the other, and the cast of characters are an enjoyable mix of the sympathetic, the villainous and the ambiguous. There's definite potential here... A solid read..." -- KIRKUS REVIEWS
"Farrell easily wields an immense cast of characters, many of whom take narrative turns. Readers who appreciate intricate world building, intrigue, and action will immerse themselves effortlessly into this rich and complex story." -- PUBLISHERS WEEKLY
"Farrell weaves the lives of his characters into an enthralling mix of politics, religion, magic, love, and betrayal -- allowing a novel of Imperial conquest and the questions of faith to remain a tapestry of very personal stories." -- bestselling author Tanya Huff
"Moving gracefully between the intrigues of palaces and slums, A MAGIC OF TWILIGHT is fast-paced yet intricate, a delight for readers of both military and political fiction." -- bestselling author Jane Lindskold
"Intriguing characters and a complex socio-political background make this a strong addition to most fantasy collections." -- LIBRARY JOURNAL
"Lust, hate, envy, greed and pride - if there was a sacrilege to savor or a commandment to break, the schemers in this tale grabbed it with gusto. Farrell...swept me away on a thoroughly enjoyable ride." -- John R. Alden in the CLEVELAND PLAIN DEALER
"S. L. Farrell weaves his storylines into a compelling tale." -- PAT'S FANTASY HOTLIST
"I'm ready for another visit, hopefully not to be long delayed." -- Don d'Ammassa in CRITICAL MASS
"Superb." -- Robert Folsom, KANSAS CITY STAR
***
"A Magic of Nightfall is beyond the shadow of a doubt one of the very best fantasy novels released in 2009... It's now obvious that a lot of groundwork was laid out in A Magic of Twilight, and it surely pays dividends in A Magic of Nightfall.... It was a delight to return to a world akin to the Italian city-states of the Renaissance. Still... one of the most fascinating aspects of this novel was the portions occurring in the Westlands. Indeed, every scene involving Niente, the Nahual of the Tehuantin, offered glimpses of their land and their culture, once again demonstrating that this is a work of fiction which resounds with depth... The characterization was top notch, with every POV character well-drawn and genuine... The struggle between science, sorcery, and religion remains an important theme, one that Farrell handles quite well. In addition, the author's eye for details creates a vivid setting which brings the story alive. A Magic of Nightfall is a multilayered tale of politics, intrigue, religion, magic, love, and treachery. One that should not be missed. Definitely one of the fantasy books to read in 2009. With superior worldbuilding, a convoluted plot, and complex characters, A Magic of Nightfall is a wonderful read. Highly recommended!" -- Pat's Fantasy Hotlist
"Complicated political maneuvering, fascinating three-dimensional characters, and unpredictable plot twists combine to make Farrell's superb fantasy hard to put down. Richly imagined and finely written..." --VOYA (Rachelle Bilz)
""A Magic of Nightfall" starts off with a bang, literally, and from there goes on a roll until its superb ending almost 600 pages later... In the end, a very ambitious tale of intrigue, politics, love, assassinations and war, "A Magic of Nightfall" is just a superior epic... "A Magic of Nightfall" finds the author raising his game to the next level and producing a work that is comparable to any epic fantasy currently being published today. Highly, highly recommended." -- Fantasy Book Critic (Liviu C. Suciu)
"Politics rule A Magic of Nightfall and set it apart from most of epic fantasy -- very few attain the sophistication here that would have Machiavelli spinning on his (albeit dead) head." - Nethspace
"S.L. Farrell delivers a vast, sprawling but riveting novel... The plot is complex and intricate, demonstrating masterful skill at the finer points of world building, and the cast is strongly drawn... Farrell's work compares favorably to Martin's Song of Fire and Ice epic, with equivalent complexity, sophistication and luxurious detail. Fans of one will absolutely want to read the other.... Books like this define the new generation of epic fantasy. Farrell has brought forth a terrific new series, one wherein the reader is kept guessing up to the last page (and beyond). I'm already eager to read the next installment. Strongly recommended." -- Drew Bittner on SFRevu
"A fascinating read... S. L. Farrell is more than just a great world-builder; he understands that the essence of power is manipulating your opponents and allies to do your bidding." -- Genre Go Round
***
"….a stunning series and a fabulous capstone book." —Romantic Times
"Highly recommended. Farrell has achieved a career highpoint with the Nessantico Cycle... The trilogy is epic fantasy in the best sense of the world, constructing a gigantic and complex world peopled by diverse, interesting characters, all of whom have consuming passions and urgent agendas. They live, they laugh, they fight and die--it's what fantasy readers love to see." -- Drew Bittner for SFRevu
"A Magic of Dawn is epic fantasy with a bent towards intrigue, politics and faith but with lots of action too and written in a very clear and enjoyable style that makes pages almost turn by themselves. The Nessantico Epilogue with the city as a pov makes for quite an elegiac finish… A whirlwind tale of intrigue and war, love and faith, prophecies and redemption with magic, battles, assassinations, secret relationships, but also families and their shared joys and sorrows." -- Liviu Suciu for Fantasy Book Critic
"[A MAGIC OF DAWN] is a great finish to a strong saga. Fast-paced and loaded with action, the characters and their divided loyalties make the Farrell mythos seem real." -- Alternative Worlds