Stephen Leigh & S.L. Farrell
Roaming at the intersection of fiction and reality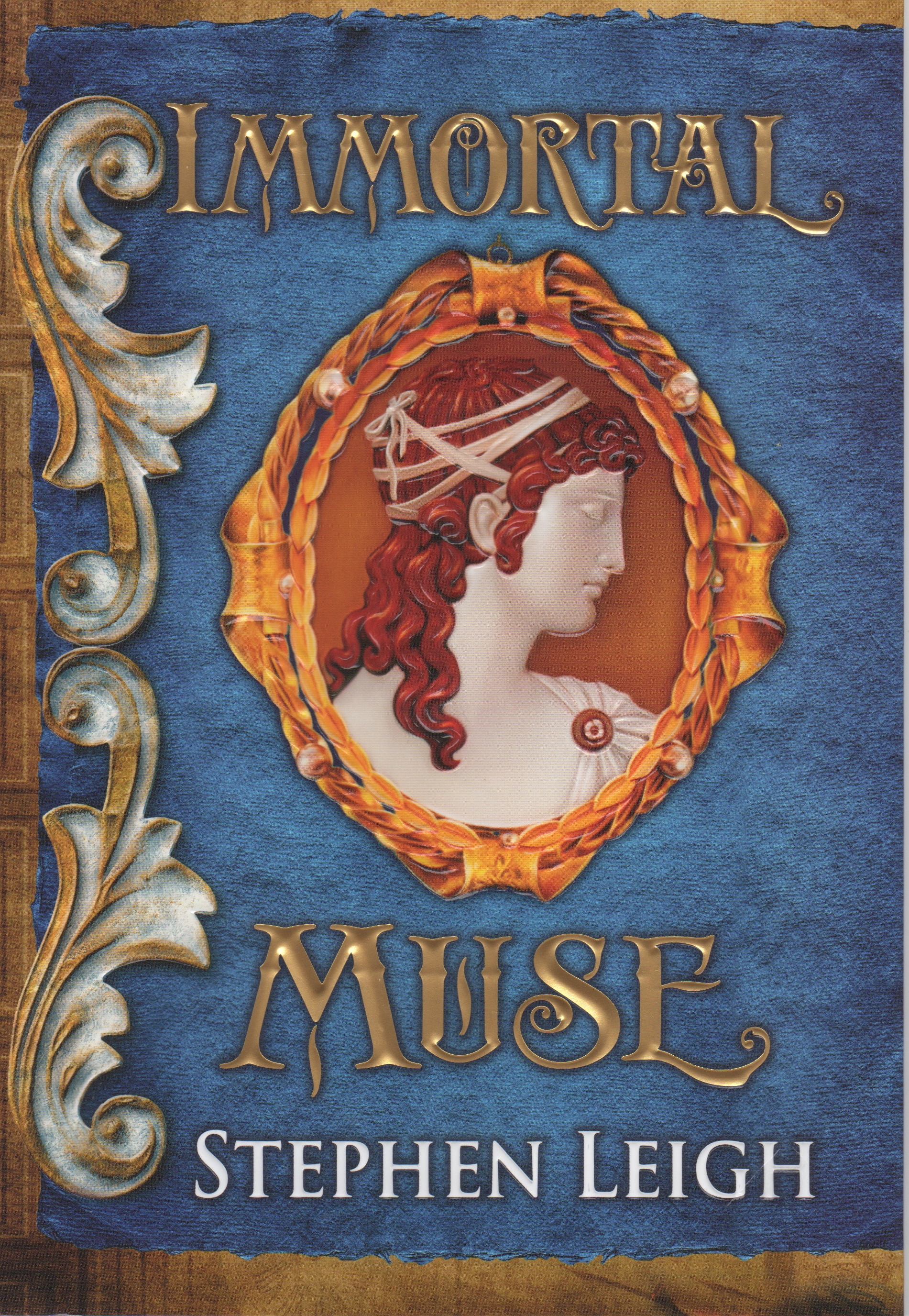 IMMORTAL MUSE was a long time coming -- three years in the writing and several drafts. It's also had several titles along the way: Muse, The Muse's Green Heart, and Daemon Heart. (If you'd like to read an account of the novel's genesis, it's here.) But it was finally published in hardcover in March of 2014, and in mass market paperback in March of 2015. E-editions of it are also available.
What is IMMORTAL MUSE? Well, here's the catalog copy... "An immortal Muse whose very survival depends on the creativity she nurtures within her lovers… Another immortal who feeds not on artistry but on pain and torment... A chase through time, with two people bound together in enmity and fury… Magic and science melded together into one… An array of the famous and infamous, caught up unawares in a long battle…
"That's IMMORTAL MUSE, a tale that takes the reader on a fascinating journey from Paris of the late 1300s with the alchemists Perenelle and Nicolas Flamel, to contemporary New York City. Along the way, there are stops with Bernini in Rome in 1635; with Vivaldi in Venice of 1737; with Antoine-Laurent de Lavoisier and Robespierre in the Paris of the French Revolution; with William Blake and John Polidori in 1814; with Gustav Klimt in fin de siècle Vienna; with Charlotte Salomon in WWII France. And in New York, a complicated dance of love and violence and relationships finally brings a resolution to the centuries-old bloody feud."
Structurally, the book is a Dagwood Sandwich. Y'know how that cartoon character makes these HUGE sandwiches? Well, that's how Immortal Muse is structured as well. The present time storyline is the "bread," while in between each piece of delicious bread is nestled a yummy layering of plot set in the past.
Both covers (hardback edition and paperback edition) are shown above. For the hardback first edition, Tim O'Brien did the cover art and the lovely cameo (when you read the book, you'll understand why it's on the cover) and G-Force Design did the full jacket layout. Lovely foil lettering and embossing of all the significant features. And hey, Denise is reponsible for the author photo.
This is definitely a book that I'm proud to have written.
IMMORTAL MUSE REVIEWS:
Our first review! "Mythology, alchemy and fantasy all coalesce in Leigh's Immortal Muse, creating the perfect combination for readers looking for their next stellar read. Leigh has masterfully created a fantastical adventure for his audience...The alternating chapters of past and present will whet readers' appetites for more adventure and intrigue, and will leave them wanting more. The author weaves mythic history with a bit of action, murder and, of course, spice—and has this reader wondering why I'm only discovering him now. This is definitely a Top Pick! perfect for those craving a bit of intrigue and history." -- Romantic Times Newsletter, March 2014
"In this centuries-spanning historical fantasy, Leigh (Assassin's Dawn) spins an epic tale of love and hate. It starts with French alchemist Nicolas Flamel, and his wife, Perenelle, in 1352. When Perenelle develops an elixir that bestows immortality, they find themselves unable to die. Her eternal existence is fueled by the symbiotic relationships she forms with creative types as their muse; Nicolas is driven by the need to inflict suffering and death. She wants to survive. He wants to torment her. As their paths cross time and again across numerous lifetimes, Perenelle is forced to constantly reinvent herself and take on new friends and lovers. When they meet again in modern New York City, it seems as though their war may finally be over. Leigh seamlessly inserts his two immortals into history, playing with actual people and events to deliver beautifully-rendered glimpses of different eras. Leigh strikes the perfect balance between past and present, real and imagined." -- starred review in "Publishers Weekly"
"Framed by her confrontation with Nicholas in modern times, the tale is one of well described historical slices slightly modified to fit the story. Fascinating and compelling, this might find some award nods." -- Henry L. Lazarus in the Philadelphia Weekly Press
"In Immortal Muse, author Stephen Leigh has created a masterpiece of historical fantasy.... Those looking for a sure-footed, exciting and thoroughly rewarding race through the history of creativity in the past several centuries--and who doesn't want that?--will not be alone in finding this a book to thrill the passions and mind alike. It is a terrific fantasy, a superlative historical read and a tragic romance all in one. Highly Recommended!" -- Drew Bittner for SFRevu
"A unique exploration of art, passion, and love." -- heroesandheartbreakers.com
"VERDICT: Sweeping in scope and full of action and danger, this well-constructed historical fantasy takes an original look at the nature of creativity. If Nicholas is slightly mustache-twirly in his evilness, the compelling "immortal muse" Perenelle more than compensates." -- Library Journal
LINKS TO BUY: | Village Lights Bookstore | Bookshop.org | Barnes & Noble | Amazon |