Stephen Leigh & S.L. Farrell
Roaming at the intersection of fiction and reality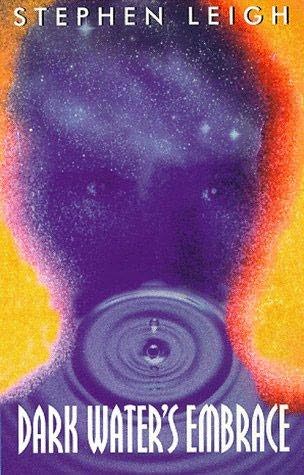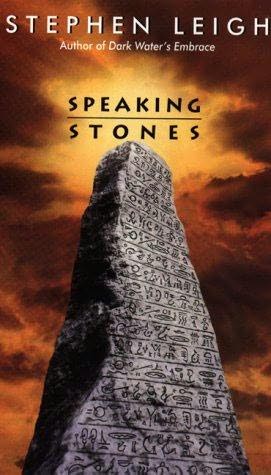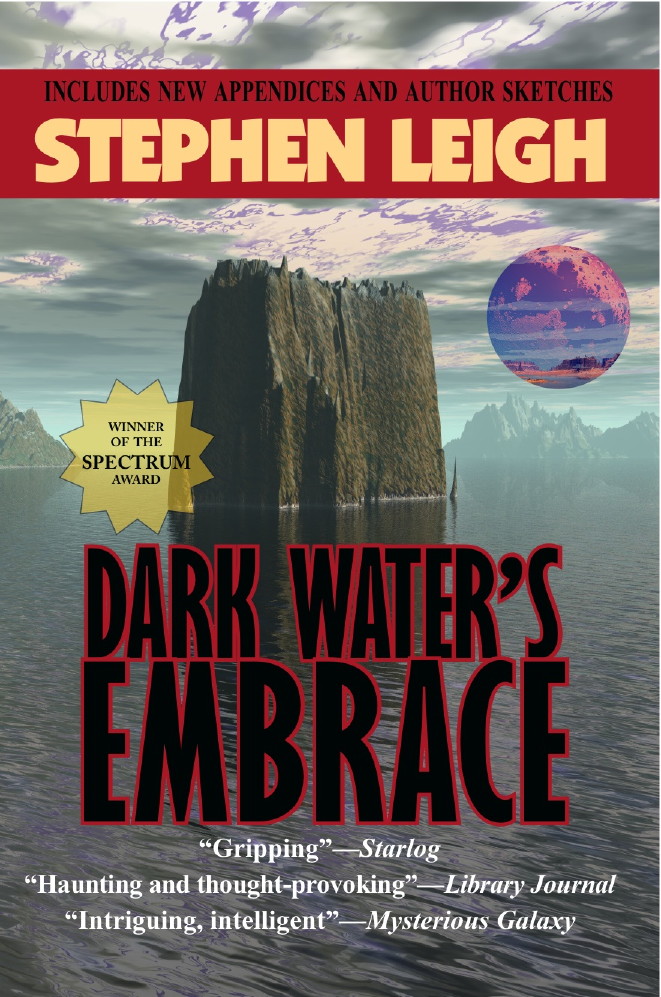 The covers above are for the Eos editions of the two books, followed by the Arc Manor editions of the same books.
DARK WATER'S EMBRACE was originally published by EOS BOOKS (Harper Collins), March 1998. It's now available through Arc Manor Press. DARK WATER'S EMBRACE is a rich and intricate sf novel exploring sex, gender, and the socio-political ramifications of repopulation (as the cover copy says).
Multiple viewpoints keep the pace brisk and compelling while the double, interwoven strands of the story unfold. In the first strand, seen primarily through the eyes of a young female doctor named Anaïs, we see the descendants of a group of humans, stranded on the world Mictlan after an explosion destroyed their interstellar ship. A hundred years later, they have evolved a tiny society whose rules and mores revolve around the necessity for reproduction. However, their birth rate is failing and barely one of five children live to see their first birthday. Most of them blame the planet itself, though they've found no scientific cause for their infertility and the high rate of mutation. Anaïs's own sexual deformities create increasing conflict and hostility from the group's leaders.
The second strand of the story revolves around the extinct race which once inhabited Mictlan long before the humans arrived. The body of one of these aliens (called the Miccail) has just been found in a bog near the humans, and Anaïs finds herself compelled to learn everything she can about the Miccail, particularly when she realizes that the bog body shares her deformity. In brief flashback sections throughout the book, we also follow the story of the bog body -- a young Miccail 'priest' -- which resonates with the experiences of Anaïs as the crisis deepens. In the end, Anaïs discovers that this ancient mystery of the Miccail holds the solution for the present-day humans.
LINKS TO BUY: | Village Lights Bookstore | Bookshop.org | Barnes & Noble | Amazon |
SPEAKING STONES was riginally published by EOS BOOKS (March 1999). It's now available through Arc Manor Press. SPEAKING STONES is not a sequel to DARK WATER'S EMBRACE, precisely -- it takes place a century later and thus the main characters are not those of DWE, nor are the issues surrounding their conflict the same. Where DWE explored sexuality and the reproductive imperative, SPEAKING STONES explores cultural shifts, racial prejudice, and the inevitable conflicts that arise.
A very different book with very different intentions...
Overall, I think it's on a par with DARK WATER'S EMBRACE, and I'm pleased. No, I'm very pleased. SPEAKING STONES, for the record, was dedicated to Susan Bennett, whose friendship I treasure
LINKS TO BUY: | Village Lights Bookstore | Bookshop.org | Barnes & Noble | Amazon |
REVIEWS, DARK WATER'S EMBRACE:
1999 SPECTRUM AWARD WINNER
1998 LOCUS MAGAZINE RECOMMENDED READING LIST
1998 TIPTREE AWARD LONG LIST
"In his ambitious novel DARK WATER'S EMBRACE, Stephen Leigh has done an impressive job of world-building, with four separate -- and disparate -- cultures interacting over generations and even millenia. Aliens and humans and the soul of a dying machine weave an interesting matrix of function and dysfunction: Political, scientific, emotional, and sexual." --Joe Haldeman
"DARK WATER'S EMBRACE deals with issues of survival, sexuality, exploration, and the finding of wisdom. Stephen Leigh handles these complex matters with intelligence, dexterity, and never less than the full measure of compassion. In addition, DARK WATER'S EMBRACE is a splendid entertainment. You won't be disappointed." -- Walter Jon Williams
"DARK WATER'S EMBRACE displays Stephen Leigh at the peak of his considerable powers." --Mike Resnick
"In DARK WATER'S EMBRACE, Stephen Leigh turns some of our basic assumptions about the world upside down and raises a host of interesting questions, which is exactly what sf is supposed to do." --Maureen McHugh
"DARK WATER'S EMBRACE is a thoughtful and lyrical story of gender differences and acceptance of Otherness. It's the type of science fiction that is rarely seen today, and the type of book that made us all science fiction readers. This book is a winner." --Melinda Snodgrass
"The fact is that Stephen Leigh's new novel is a fine piece of work and one that deserves to reach a wide readership." Michael M. Levy, reviewing in the NY Review of Science Fiction, July 1998
"If the judges for the Lambda Award... will consider books that examine truly alternative sex roles, 'Dark Water's Embrace' will be a strong contender." -- John R. Alden, reviewing in the Plain Dealer
"Stephen Leigh has crafted a gripping picture of a harsh world and human intolerance." --Scott W. Schumack, reviewing in Starlog
"An intelligent, carefully constructed novel with an interesting scientific puzzle..." --Don D'Ammassa, reviewing in Science Fiction Chronicle
" 'Dark Water's Embrace' is an intriguing, intelligent and thought provoking study of gender society and the human will to survive against all odds. It is a novel that brings to mind the very best offered by Nicola Griffith, Melissa Scott, Sheri Tepper and Ursula K. LeGuin." --Patrick M. Heffernan, reviewing in Mysterious Galaxy.
"...this haunting and thought-provoking story belongs in most sf collections." --Library Journal
"...an exciting novel from a well-respected writer. Once again, we have a work of fine science fiction which shows us how important biology is to our destiny." -- Feminist Bookstore News
REVIEWS, SPEAKING STONES:
1999 TIPTREE AWARD LONG LIST
"Leigh's characters bring Mictlan's conflicts alive. Stubborn, loving, angry, conflicted, and most of all frightened, these players reveal a world where both species could lose by winning but where accommodation appears impossible. The resolution of this conflict, featuring both tragedy and hope, is rewarding indeed." -- John R. Alden, reviewing in the Plain Dealer, Cleveland OH
"The richest and most complex novel Leigh has yet written, and one that you will remember long after you have finished reading it." -- Don D'Ammassa in SF Chronicle
"Leigh's Mictlan is a fascinating world and the various human and Miccail cultures are both well-developed and highly believable. His characters, regardless of their species or their sexual apparatus are intensely human, given to making errors and capable of both love and hatred. Even his villains are well rounded... SPEAKING STONES stands on its own as one of the better planetary adventure novels published..." -- Michael Levy in SFRA Review
"The world and the society created here are both fully realized... SPEAKING STONES is an ambitious novel... Leigh makes it work, and work well. I was curious, I was interested, and I was moved." -- Jeri Wright, reviewing for THE SF SITE
"I've been waiting for this one... As usual, Leigh's characterization really shines; it's the characters and setting that drive the show. Take a look at all the nifty supporting material, too... Most highly recommended." -- Elizabeth Barrette, reviewing for Hypatia's Hoard
"SPEAKING STONES is a mystery and adventure with a dose of science and surprise" -- Sharon Wootton, reviewing in The Herald of Everett, Washington
"The complex roots of cultural conflict are explored in this provocative sequel to DARK WATER'S EMBRACE..." -- Locus Magazine