Stephen Leigh & S.L. Farrell
Roaming at the intersection of fiction and reality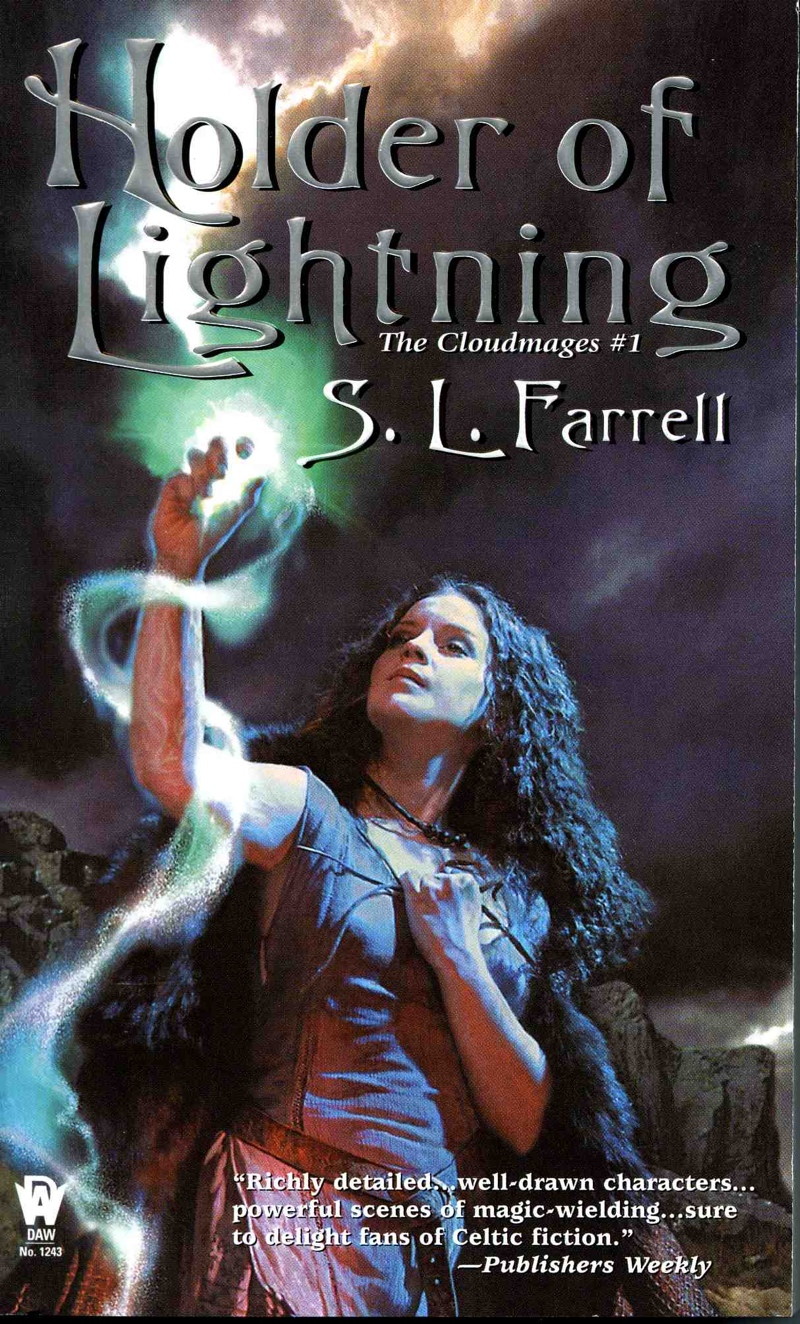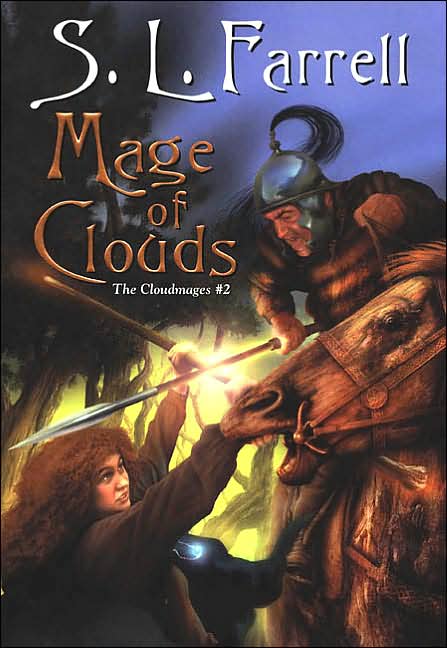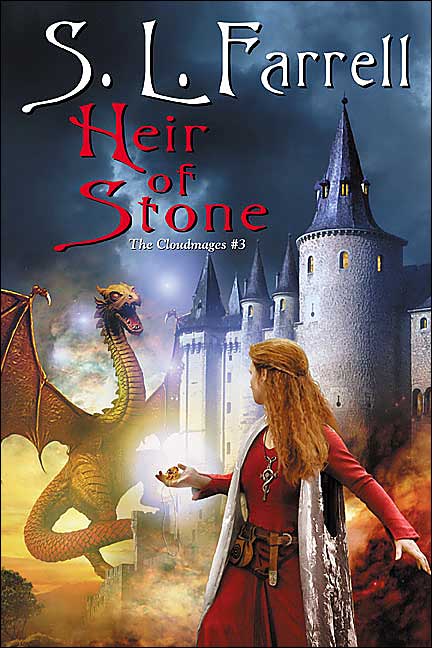 The CLOUDMAGES TRILOGY was originally published by DAW BOOKS between 2003 - 2005
In HOLDER OF LIGHTNING, Book One of The Cloudmages, a seventeen-year-old farm girl named Jenna picks up a small but strangely alluring stone on Knobtop Hill-and, with that single act, her peaceful life is forever changed. First, the lights appear-the mage-lights which shone only in legends from the time Before. Then, with the lights, come the trouble and the magic, too...
For what Jenna holds in her hands is the Lamh Shabhala, the master stone of legend which could reawaken all of the stones. And the Holder of this stone is said to pay the greatest price for wielding such powerful magic.
Now, Jenna fears for her home, her friends, and her family.
Ancient legends are waking-and walking the earth.
HOLDER OF LIGHTNING came about because my son challenged me to write a "real" fantasy. That, plus memories of a wonderful trip to Ireland in 1999 started me on my trek to understand the world of the Cloudmages -- a delightful and dangerous journey of discover. The book garnered excellent reviews (as you can see from the sinister side of the page), good sales, and taught me just how challenging writing a fantasy could be. I think it will always be a favorite book of mine.
The book was written between January 2001 and May 2002. The evocative cover art is by Gordon Crabb, and the book is dedicated to Devon, since it's "his fault..."
LINKS TO BUY: | Village Lights Bookstore | Bookshop.org | Amazon |
***
The protagonist for MAGE OF CLOUDS is Meriel, the daughter of Jenna Aoire, whose story was told in HOLDER OF LIGHTNING. Meriel's now the age Jenna was in HOLDER. She seems to have little interest in the concerns of her now-famous mother or in holding one of the Clochs Mor herself. But she is thrust into dire events despite her wishes. Storm clouds are rising on the peninsula, high and dark and fast, and it's rumored that the Ri Ard is dying...
The book was written between December 2001 and June 2003. The cover art for this one is by Jim Burns -- I love the effort and concentration visible in Meriel's face. The book is dedicated to my daughter Megen, who reminds me much of Meriel in her strength.
LINKS TO BUY: | Village Lights Bookstore | Amazon |
***
In this final installment of the Cloudmages trilogy, set a generation after MAGE OF CLOUDS, the oldest of Meriel's children, Sevei and her twin brother Kayne, have reached adulthood. But their world is about to be turned upside-down when all of their widely scattered family are simultaneously attacked, and their younger brother Ennis will find himself set against his own kin. The power of the Clochs Mor is rising, and the creatures of myth are awakening once again, including the vile and cruel Arruck...
The book was written between November 2002 and July 2004, and at 210,000+ words remains the longest novel I've ever written. The cover art for this one is by Steve Stone (good first name, and a good last name for these books!) -- an attractive cover, I think, and hey, a dragon!. The book is dedicated to my wife Denise, completing the trilogy of 'family.'
LINKS TO BUY: | Village Lights Bookstore | Amazon |
REVIEWS OF THE "CLOUDMAGES TRILOGY":
"S.L. Farrell makes magic real with a story that encompasses the highest of classical high fantasy and the grittiest of real-world situations, told with never a misstep and never a pause. I read this in one sitting, breathing optional. It's wonderful! -- Holly Lisle, award-winning author of Memory of Fire
"This is an engaging, moving tale, told with passion and skill. S.L. Farrell has created a world that captures the imagination, peopled it with complex, compelling characters, and imbued it with magic that is both believable and wondrous. I recommend it." -- David B. Coe, author of the Crawford Award-winning LonTobyn Chronicle
"[A] richly detailed fantasy debut launches a new series that's sure to delight fans of Celtic fiction... In this thinly-disguised medieval Ireland, every man's hand can be turned against every other's (and women aren't backward in this, either), particularly when the stakes are as high as they are here... [P]owerful scenes of magic-wielding and [a] vividly depicted Celtic society." -- Publisher's Weekly, 12/9/2002 issue
Very Highly Recommended... HOLDER OF LIGHTNING, an epic fantasy novel, is based on ancient Celtic tradition and legend yet is set in a realm that is subtly different." -- Under The Covers review website
"This first volume in 'The Cloudmages' series is an unusual Celtic fantasy set in a land of rival kingdoms skirmishing for power as a long-absent magic returns. [Farrell] spins an absorbing tale full of wonders, largely self-contained despite being only the first in a series." -- Carolyn Cushman for Locus Magazine
"Introducing a bold new voice in epic fantasy fiction. This multigenerational saga is set in the British Isles, rich with Celtic magic, ancient legends and unforgettable characters. " --Columbus Metropolitan Library
"HOLDER OF LIGHTNING couples Celtic mythos with a richly detailed fantasy world. Redolent of a bardic tale with its unlikely heroine beset by enemies from all sides, Mr. Farrell's story has a unique cyclical magic energy waiting to be harnessed." -- Kelly Rae Cooper, Romantic Times Book Club
"Besides great, fast-paced fun, full of politicking and betrayal, Farrell's tale is a tragic love story with a surprisingly satisfying ending. " -- Paula Luedtke, Booklist (Amerian Library Association)
"A great beginning to a special series, and I can't wait for the sequel." --Henry Leon Lazarus, Center City's Weekly Press
"HOLDER OF LIGHTNING is Book 1 of the Cloudmages series, and is the first in an anticipated epic which, if this is any indication, will be a powerful set indeed... Strong characterization. " -- Midwest Book Review
"...has the power to capture the reader with its entertaining blend of Celtic magic, heroic and romantic characters, and dynamic plot." -- Jan Chapman reviewing for VOYA (Voice of Youth Advocates)
"If you like Celtic fantasy that spreads out a story like a huge blanket at a picnic and provides a feast to satisfy your imagination, then Holder of Lightning by S.L. Farrell may well be the book for you." -- Donna Scanlon reviewing for Rambles: A Cultural Arts Magazine
***
"Farrell's second richly imagined Cloudmages fantasy...The author deftly manages Meriel's journey from the sheltered and innocent Banrion's daughter of the book's opening chapters to the grounded and powerful woman she will become - and from hostage to healer. Intriguing, fully developed characters abound... can only enhance Farrell's reputation as one of the rising stars of Celtic fantasy." -- Publisher's Weekly
"TOP PICK! ...Farrell offers up a beautifully written tale, intertwining Celtic mythology and epic fantasy, deftly managing political and romantic subplots that add depth and color to the story. Rich in detail and characterization, this novel will delight fans of complex fantasy fiction." -- Romantic Times Book Club
"The second book in the "Cloudmages" series, MAGE OF CLOUDS, is a tremendous fantasy... fantasy aficionados will greatly value this powerful book that ignores the middle syndrome with a powerful plot and deep cast." -- Review Centre (UK)
"Farrell creates a world filled with Celtic flavor and richly inventive back history and peoples it with strong male and female characters. Amid scenes of sorcerous rivalries and political maneuverings runs a story of a mother's love for her child and a woman's loyalty to her land and her magic. This sequel to Holder of Lightning is a strong addition to fantasy collections." -- Library Journal
***
*Starred Review* "The third Cloudmages novel opens amid turmoil and rumors of war. Openly resentful of Banrion Jenna, first holder of the powerful cloch (magical stone), Lamh Shabhala, the royalty of the other Tuathas plot to bring down her and her heirs and claim the stone. Outsiders also threaten in the form of the Arruk, animal-like sentient beings striving to conquer humanity and learn the greater magics. The twins Sevei and Kayne, eldest children of Jenna's daughter, the beloved healer Meriel, are away from home, Sevei training with the Cloudmages, and Kayne with his father's campaign to slow the Arruk. Then the brothers' world is devastated by Meriel's murder, their specially gifted seven-year-old brother Ennis' kidnapping, and, later, Jenna's killing, too, which leaves Sevei a totally unprepared new holder of Lamh Shabhala. Separated and their family disrupted, each twin has no one to trust about him and must cultivate the inner strength to deal with the perils he faces. Farrell's smashing series outdoes itself with each new volume. This one constitutes a wonderful tale of transformations, personal for Sevei and Kayne, global for the evolving consciousness of two species in conflict. Good enough to be cast in gold." -- Booklist, Paula Luedtke, American Library Association.
"The grandchildren of Jenna Aoire, who first learned to wield the power of the star stones in 2002's Holder of Lightning, face multiple challenges in the pseudonymous Farrell's dense, literate third volume in his Cloudmages saga (after 2004's Mage of Clouds), set in the Tuatha, a land much like medieval Ireland. Sevei is learning to become a cloudmage while her twin brother, Kayne, is off on a military campaign against the invading Arruk, who have captured their youngest brother, Ennis. Meanwhile, Doyle Mac Ard, Jenna's half-brother, renews his campaign of treachery against his kin. The author does such a good job of depicting Doyle, who illustrates the psychological costs of the classic Celtic feud mentality, that he almost takes over the novel. But there are plenty of other memorable characters, and readers will be grateful for the extensive appendixes, which include a cast list, a glossary and a brief history. While the pace can be leisurely at times, Farrell continues to shine as one of the strongest voices in the Celtic fantasy subgenre." -- Publishers Weekly
"S. L. Farrell has a solid third tale about magic flowing from the stars and caught by the stones of the Cloudmages... I love these tales." -- Henry Leon Lazarus for Center City Weekly Press (Philadelphia)
"In Heir of Stone, S.L. Farrell brings to a stunning climax the tale of three generations... a tumultuous and epic confrontation where the fate of the races of this complex and rich world will be decided." -- author Jim Ferguson